ROGERS PARK — A Rogers Park auto body shop is offering a reward for the return of Pepper the Kitten, a shop cat who was retired from business on Thursday.
A person walked away with Pepper, a 9-week-old black cat, around 10 a.m. Thursday from Auto Tecx Collision and Repair, 7111 N. Clark St., office manager Jackie Rios said.
Pepper is the newest addition to the Auto Tecx family, joining 2-year-old Peanut as their employee-supported shop cat. The friendly and playful Pepper has settled into his new home and is often seen sitting in the bay door of the auto garage, Rios said.
Rios couldn't find Pepper when she arrived at work Thursday, she said. A colleague had seen it that morning, after taking a picture of the kitten. Next, employees checked security footage, which showed a person walking with the black cat just outside the company, Rios said.
"Someone picked it up," Rios said. "Maybe it was a misunderstanding, I just picked him up thinking he was a stray. But she never stopped asking.
A $100 reward is being offered for Pepper's safe no-questions-asked return to Auto Tecx, Rios said.
Auto Tecx has long had cats living in the company and acting more like pets than shop cats patrolling for rodents, Rios said. A colleague recently adopted a cat who was pregnant and Auto Tecx decided to take one of the kittens as his own, naming her Pepper.
The cat quickly became a beloved member of the team, Rios said. The workers come on a day off on Sunday to take care of the cats.
"He is hugely loved," she said. "Customers come here just to visit him. A customer called and asked about him. I didn't dare tell him that he had disappeared.
After discovering that Pepper was gone, Auto Tecx employees left work early Thursday to search the neighborhood and post flyers. As of Friday afternoon, there were no leads in the case, Rios said.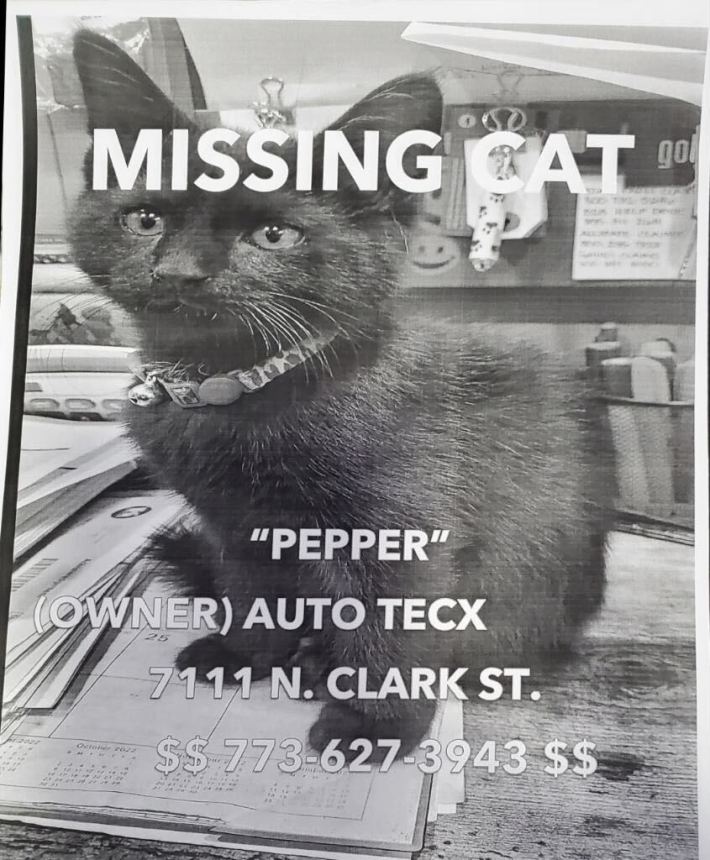 Pepper was due to go to the vet next week and get microchipped, which would help her owners locate the cat, Rios said.
Anyone with Pepper's whereabouts information can call 773-627-3943.
"He's such a character, Mr. Pepper," Rios said. "We just want him to come home."
Listen to "It's Alright: A Block Club Chicago Podcast":